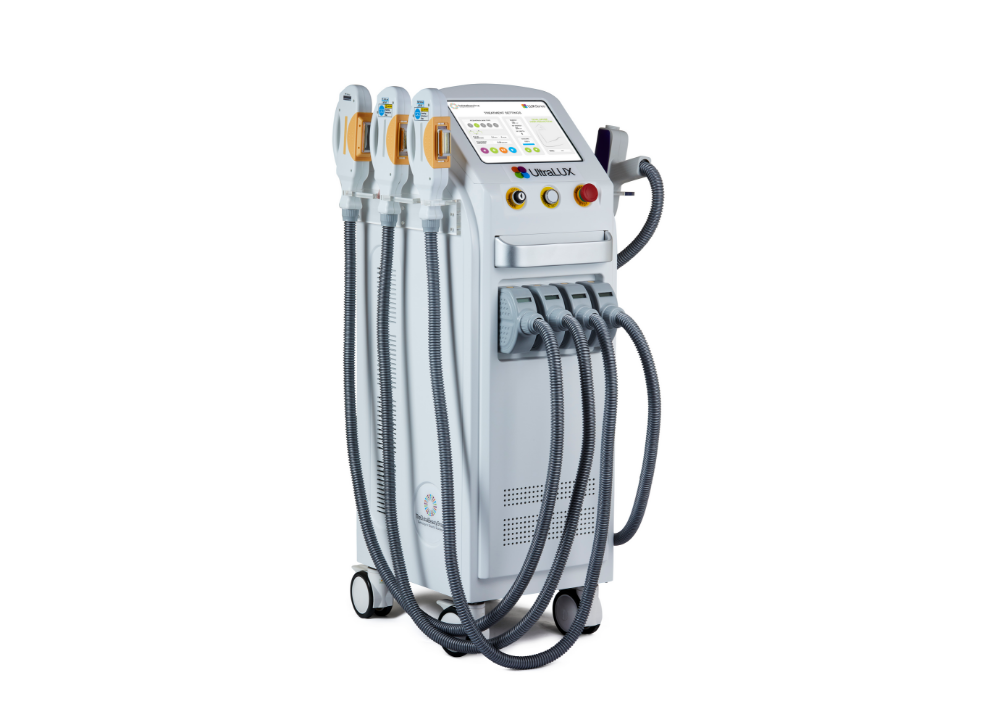 This value-packed multifunctional device utilises an innovative synergy of the most in-demand aesthetic treatments all in one high-performance device.
With UltraLUX, instantly add up to 12 new aesthetic services to your treatment menu:
IPL Permanent Hair Removal
Dual-Mode Permanent Hair Removal
SHR Super Hair Removal
IPL Acne Management
IPL Pigmentation Correction
IPL Vascular Therapy
Radio Frequency Facial Skin Tightening
Radio Frequency Body Skin Tightening
Ultrasound Body Contouring
Ultrasound Product Infusion
Laser Tattoo Removal (UltraLUX PRO)
Carbon Facials (UltraLUX PRO)
Call AU
03 8555 2246

, NZ

0800 398 749


or click here for a free, no obligation quote
Download our complimentary
2019 Technology Guide
Key features
Ultrasound Body Contouring for body slimming and cellulite reduction.
RF technology for face and body lifting, tightening and toning.
Ultrasound technology for nutrient infusion facials (sonophresis).
Dual-mode technology for lighter pigmented permanent hair removal.
Delivers nine of the most sought after treatments in one convenient device.
Integrated skin cooling as low as -4 for added client comfort.
2000 watts of power and up to 12 hours of continuous working time.
Included benefits
With all of our IPL Machines for sale, The Global Beauty Group provide an array of exclusive customer support to ensure you get the absolute most out of your investment:
ABIA Educator of the Year-nominated practical and theory
Free marketing materials and advice delivered by MyFaceMyBody Best Marketing Support winners
Ongoing clinical and technical support to ensure you're always delivering treatments with confidence
The gold standard level of customer service and post-sales support unmatched in the industry
Optional Tattoo Removal upgrade
Ask us about upgrading the UltraLUX PRO to deliver results-driven tattoo removal and carbon facials. UltraLUX PRO expands your treatment menu to deliver an array of results-driven services for the cost of just one device. Why pay for multiple machines when you can enjoy the versatility and power of LUX Series Technology.
Benefits of the Q-Switched Nd:YAG laser tattoo removal handpiece:
Removes a broad range of tattoo pigmentation colours
Performs targeted services on a range of skin types
Encourages repeat bookings with tattoo removal requiring multiple sessions
Deliver trending, in-demand services including the Carbon "Hollywood" Facial
For more info on the UltraLUX PRO tattoo removal upgrade option, call our device consultants now on AU 03 8555 2246, NZ 0800 398 749.
Technical Specifications
Filters:
420nm Acne management
530nm Pigmentation and Vascular
560nm Pigmentation and Vascular
590nm Skin Rejuvenation
640nm Permanent Hair Removal
690nm Permanent Hair Removal
750nm Permanent Hair Removal
Pulse energy: 10-50J/cm2
Pulse sequence: 1-5 pulses
Pulse duration: 2-20ms
Number of handpieces: 3
Spot sizes: 8×40 IPL, 15×35 IPL, 15×50 IPL, 12×30 Dual-Mode, 12×40 Dual-Mode, 12×45 Dual-Mode x Bipolar RF hand piece with 15mm and 32mm treatment tips
Ultrasound Cavitation Hand pieces: 1 X 40KHz, 3 x 1MHz
Continuous working time: 12+ hours
Delay between pulses: 5-60ms
Power: 2,000 watts
Operating Interface: Large colour touch screen
Dual-Mode (RF + IPL): Yes (optional)
Adjustable cooling head: Yes
Integrated skin cooling: From -7 to 0 degrees
Cooling system: Water cooling, forced-air cooling, semi-conductor cooling
Discharge rate: 1 second
Flash lamp: Xenon lamp 300,000 maximum, 150,000 guaranteed
Number of filters: 7
Guarantee: 1 year extendable
Approvals and registration: Included on the Australian Register of Therapeutic Goods (ARTG No 168147)
A Comprehensive, World Class Training Program is Included with Your Order!
The Global Beauty Group is totally committed to providing world-class training programs for all technologies. That's why, a highly developed training program is provided FREE for you and one other staff member with your purchase. Training is conducted at our Melbourne training centre and a Travel Assistance Rebate is supplied for interstate customers.

FREE Marketing Materials
Our award-winning marketing support is included with every purchase of technology. From brochures, posters, flyers to even social media resources, we provide you with the tools and support to confidently and effectively get the word out there about your new services.
Beauty Equipment Sales and Financing
Call our team of experts now on AU 03 8555 2246 or NZ 0800 398 749 and let us help tailor a custom made solution to suit your individual business and budget.

The Global Beauty Group Best Price and Quality Guarantee
Experience our gold standard customer service and industry leading equipment range to discover for yourself why The Global Beauty Group was named Distributor of the Year for aesthetic technology and skin care.
Call now for a free, no obligation quote on AU 03 8555 2246, NZ 0800 398 749.