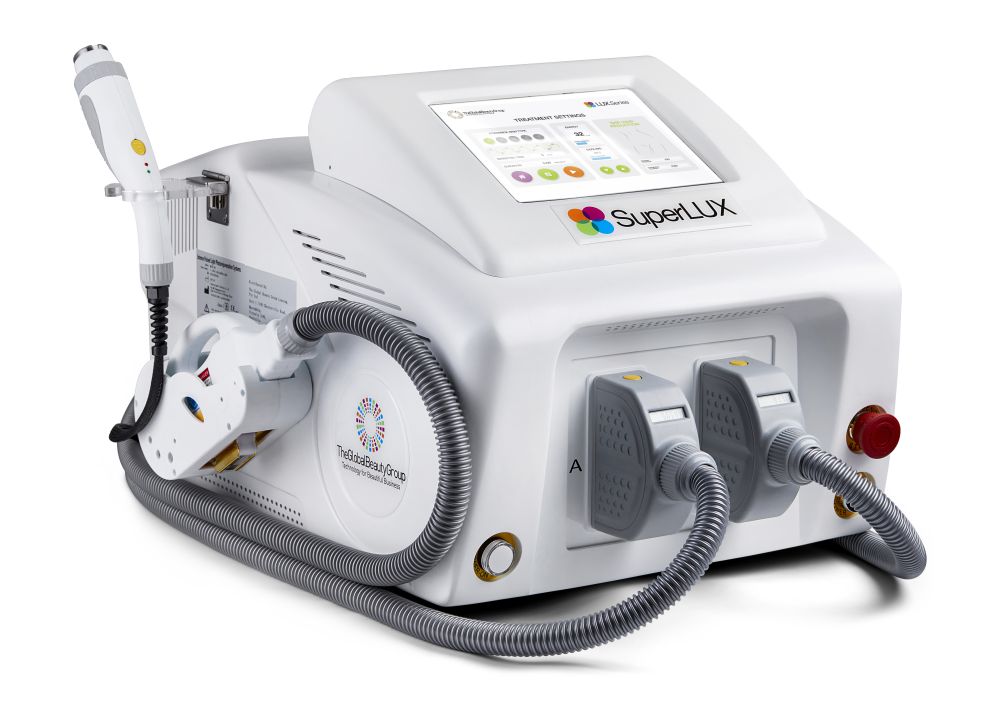 The winner of Dermascope's Aesthetician's Choice Award for Multi-Functional Equipment, SuperLUX IPL machine boasts state-of-the-art SHR (Super Hair Removal) technology. This means virtually painless permanent hair removal treatments in half the time of a traditional IPL hair removal session thanks to a new ground breaking treatment delivery method which utilises high pulse repetition rates at low energy levels to gradually heat the hair follicle to the point of destruction.
When it comes to offering a whole range of technology-enhanced treatments to your service menu, you can't get much more versatile than SuperLUX.
Treatments with SuperLUX involve minimal discomfort and are non-invasive aesthetic procedures that requires no post-treatment downtime, making it an attractive selling point for clients with modern, busy lifestyles.
Call AU
03 8555 2246

, NZ

0800 398 749


or click here for a free, no obligation quote
Download our complimentary
2019 Technology Guide
Intuitive Design
Operators of all skill levels can glide through treatments with ease thanks to the convenient touch screen interface and adjustable parameters which offer a choice of Standard and Professional modes.
Applications
IPL Permanent Hair Removal
Dual-Mode Permanent Hair Removal
SHR Permanent Hair Removal
Vascular Therapy
Pigmentation Correction
Photo Rejuvenation
Acne Management
Radio Frequency Skin Tightening
Best Price Guarantee* Call Today!
Specifications
Filters
420nm Acne Management
530nm Vascular Therapy and Pigmentation Treatment
560nm Vascular Therapy and Pigmentation Treatment
590nm Skin Rejuvenation
640nm Hair Removal
690nm Hair Removal
750nm Hair Removal
Pulse Sequence: 1-5 pulses
Pulse Duration: 2-20ms
Number of hand pieces: 1
SHR IPL Spot Size Options: 15×50 SHR IPL, 15×35 SHR IPL
IPL Spot Size Options: 8×40 IPL, 15×35 IPL
Continuous working time: 6 hours
Delay between pulses: 5-60ms
Power: 2000 w
Operating Interface: Colour touch screen
E-Light Technology (RF + IPL): No
Adjustable cooling head: Yes
Integrated skin cooling: From -4 to 0 degrees
Cooling system: Water cooling, forced-air cooling, semi-conductor cooling
Discharge rate: 1 second
Flash Lamp: Xenon lamp 300,000 maximum, 150,000 guaranteed
Number of filters: 7
Guarantee: 1 year extendable
Approvals and registration: Included on the Australian Register of Therapeutic Goods (ARTG No 168147)
A Comprehensive, World Class Training Program is Included with Your Order!
The Global Beauty Group is totally committed to providing you with an outstanding training experience. For this reason, a highly developed training program is provided FREE for you and one other staff member with your purchase. Training is conducted at our Melbourne training centre and a Travel Assistance Rebate is supplied for interstate customers.

FREE Marketing Materials
The Global Beauty Group not only believe in providing you with excellent devices and outstanding training programs, we also believe in helping you to market your new services to your existing and new clients. With this in mind, we have created an informative customer brochure and advertising poster for you to use to help promote your business. Here are some of the examples of the marketing materials that you will receive with your purchase.
Beauty Equipment Sales and Financing
Please also view our Sales and Financing options for a solution that works for your salon, or call our team of experts now on AU 03 8555 2246 or NZ 0800 398 749 and let us help tailor a custom made solution to suit your individual business and budget.

The Global Beauty Group Best Price and Quality Guarantee
All customers can rest assured that we deliver the highest quality products at the lowest prices, guaranteed! We guarantee to beat any genuine competitor's quote on our full range of products, so talk to one of our friendly consultants today. Experience our fully comprehensive and personalised customer service and see for yourself why The Global Beauty Group is Australia's premier aesthetic beauty equipment supplier.
Call us now for a free, No obligation quote on AU 03 8555 2246, NZ 0800 398 749